hm !
woah , ie was soaking wet when ie reached hm .
cause its raining damn heavily laaa.
Hahaha !
alriites , didnt wash my hair for 2 days?
well , guess its fated that my hair should be wash alr.


so , after skool , went with qinghai , steven & sheryl to look for ah cock .
went bubble tea stall , ltr .
we went back to skool as thr's a mathematics mock test .
shags ~
simple qustions ie dunnoe how to do .
like ah cock say , my math is damn jialat liaoo uh !
Hahahas =D
so after that , swee went hm tgt with steven .
ie decided to slack for awhile ,
went market to eat with ah cock & qinghaii .
ate TOMYAM + RICE as ie was dying for to drink tomyam soup
the whole dayy laa , thks to SWEE YU WEN !
tempted me with chia's primary skool tomyam .
cause we were having a conversation abt going bakk to our primary skool.
Hahahahahs .

After that , went to half court & played basketball
with qinghai , ah cock & ah cock'bro .
ie damn lan in bball laa.
gOsh , but its FUUUUUNNNNN =D

Heh -.-'
SS exams is on next wed .
scaryy , im starting to feel fcuking nervous .
ie haven start studying yet ,
mdm loo told us thr's a rumours that SS is going to be tested on globalisation .
so , im going to concentrate on it .
but , thr's still plenty more subject to study on uh.
OMG.
LACK of time.
tue is mtl exam ,
eng is on thurs .
gOsh ~ all my impt subjects .

GOODLUCK TO THOSE TAKING THEIR EXAMS THIS WEEK !!!

here's 2 piic of the guys playing bball.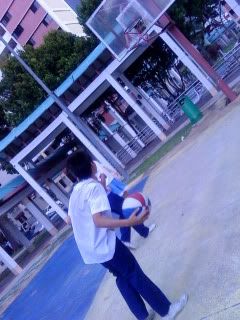 Here's a veryy cute piic of my dog getting punish for doing something wrong.
we copied frm ah cock .
LOL.



she had to stand & face the wall until we said she can stop.
Hahhaas , look at her saddy face =D




after that , she went rubbing her head at my mum's leg to show that she
knows she's in the wrong .
Hahahas , damn cute la.

stay tune (:

LOVES CAS ♥