homed (:
and im fcuking tired .
im eating magee prawn mee now =D
gonna sleep alr =D

15/08/09

ytd reached home at 12am ?
at first after skool , dad called .
ask me go tohpayoh find him .
so , waited for bro at yck station .
ate chocolatee ice cream bread .
last time ie eat the $1 chocolate ice in biscuit de ,
but , after last year .
ie prefer it in bread .. guess ie copied him!
Hah ,
so , reached amk .
went serangoon ate dinner .
mum & relative ordered 3 crabs?!
1 black pepper , 1 curry crab and 1 butter crab !
and ie only ate 1 piece.
cause ie had no appetiate ( recieve a msg frm my friend )

after msg-ing w my friend.
decided to go miit .
went home , changed and cabbed down to novena
ard 9pm , went amk .
watch my friend eat ... actually the chicken riice doesnt look niice.
Only the soup look niice.
However , seeing my friend eating until so happy .
decided nort to disturb =D
LOL!
after that , went amk park there & we played swing .

ie always wanted to play swing uh .
But my friend everytime say childish .. dont want ...
FINALLY , ytd we get to play swing tgt =D
asked my friend to push me up high high ..
damn fun ie tell u .
swing until ie headache .
go rest & chatted =D
its been a while since we last chatted .
enjoyed ytd rly alot !
chatted all the way till 11:40pm+
cabbed hm.

14/08/09

ie have 2 picc to show u guys .
Hahahaas .
georgina's dog is rly a tiko dog laa .
keep want to fuck my dog .
Non stop smelling my dog ass .
keep chasing her ard laa .
luckily , my dog isnt those easy dog .
she is fcuking firece ..
like " GO AWAY OR I WILL BITE !!!! DONT EVEN THINK OF PUTTING UR PENIS IN ME !!! "
dont understand how firece she was , ie took a snap shot =D

here are pic frm sun & ytd (:

sunday's piic




ie gave annabell chocolatee ice cream to eat & this is the outcome !!
Hahahaas .
still she's damn proud of it .
went to tap on georgina's shoulder & show her -.-'
CUTE la !




Look , georgina's tiko dog sniffing my mayko ..
& just look at her face !
understand what ie mean now?
Hahahaaas =D

MONDAY'S piic



mummy bought for me this guess bag quite long ago. ♥
Thks mummy !!




a ugly pose of myself !



dont noe what pose ie made. LOL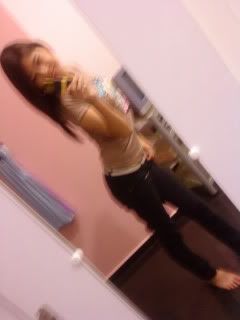 Last piic for that day =D

stay tune (:
TIRED TIRED , going sleep now !

LOVES CAS ♥