just ate my dinner .
yummyy =p
oh anws , do view me & kamiing's blog.
we're quarrelling inside & its damn funny laaaa.
LAME things.

anws , chi N lvl is easyy ie must say .
Hahahas , ie do hope ie will do rly well for this paper.
im pretty confident in it uh .
hope my result wunt disappoint me.
im aiming for at least a b3 / a2 (:
wish me luckkk .
So , anws . after doing the paper.
ie looked at bingyao , he's still doing laa.
den left 43 sec & ie see he is still doing laa.
ie was like , OMG!
kept seeing which qus he's at ..
luckily , he manage to finish on tiime (:
Heh heh .

so , after exam , met up with gary they all .
den went to market to look for raymond.
ate & went to tohpayoh to study .
at first , we went to amk library but it was FULL laa.
Oh & gary , steven , jackson , raymond , dorita & me took out $2 for lucky draw.
raymond went to the singapore pools & buy de dunnoe stratch thing.
damn exicting .
if we're lucky enuff , we can win $25 000 ?!
LOL , steven won $5 .
Hahahaas , lucky laa.
tho its small but its consider lucky rites?


So after that , we went to tohpayoh .
walked to the library , guess what ?!
FULLLLLLLL !!!
then thr's the fcuking librarian .
damn cb , keep scold scold scold .
problem it's isnt exactly us whu were making noise laa.
went he scold us , he can speak loudly .
den we are suppose to reply him in a WHISPER mode.
& he keep say ' this is nort the right thing to do '
_l_ u.
so , went we want enter the lift to leave that library , before the door closes ie scream .
damn embarassing laa , ie oso dunnoe whyy ie did that =/


LOL.
so , we went to mos burger & studied thr.
woahh , cause im too use to have afternoon nap .
ie felt fcuking tired laa.
cant even stay awake , ended up ie slept for abt 10 mins or so ?
wake up , washed my face & studied agains.
all the way until abt 6pm ?
den we went bakk .
gary stayed at yishun , steven stayed at sbw.
dorita took a one str8 bus hm & we took mrt,
so went raymond , jackson & ie reached yck .
its raining laa.
went to jackson's hus to slack.
watched my 7pm korean show at his hus (:
den went hm at 8 =D

Oh , here are today's piic.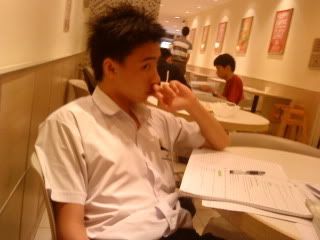 trying to hold steven face?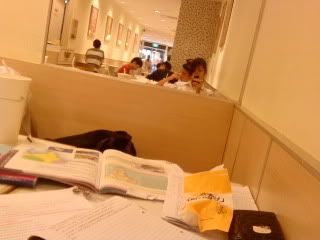 good luck for tmr's 'N' lvl SOCIAL STUDIES TO ALLLLLLL uh (:
staytune.

LOVES CAS ♥

ps :STUDY FOR THE LAST LAP .