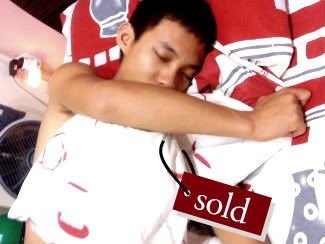 u all must be asking , why ie put this pic at the top instead of the bottom .
BECAUSE

, this boy came to my hus at 2 , played alil of dota ..
slept at 6pm all the way to 6am in the morning.
Yes , he practically came to my hus , awake for 4 hrs ,
and asleep for 12 hrs.
Sad uh =C
Hahahaa , but nvm , at least he get to be by my side for 20 hrs =/
ie have no idea why he was so tired ytd.
ie had to take drinks , food up and feed him like a

small baby .
But , haha .
had fun too =D
Oh , and he didnt smoke for the whole 20 hrs.
Heh !
so , ie ended up ..
dragging my time by watching tv .
disturb him abit.
went to help him dig his ears.
until ie myself gt tired & fall asleep .
woke up at 6am , call him wake up & ask him go hm .
LOL!
anyways , notice he gt a tag

'SOLD'
Yes , he's sold to me.
Uhhhh , joke joke (:
just something lame im doing.
okkays ,ie didnt study much , cause ie dunnoe what to study .
ie dunnoe whr to strt .
shags ~
forget it , maybe ie shuld chiong for my History !
stay tune (:
LOVES CAS ♥