Woke up at 4pm today .
nv go out with family , tired sia.
Hahaha.
when ie woke up , maid told me
mum bought me some noodles to eat .
Woah , so big plate.

No idea why my old illness is bak .
ie cant eat much agains,
is like..
AGAIN , ie can DONT eat the whole day and during dinner ,
ie still feel very very full =/
Is that normal ?
Hahahas.

Alrights , to that dot in my tag board .
Gosh , ie had no idea ie became so popular .
That actually SOMEONE tagged my blog at 6am in the MORNING.
u rly love me that much huh ?!

My dear ,
why say my face chui ?
Hahaha , dont jealous leii , u noe..
being jealous of my looks WONT make u pretty.

so , lil girl/boy.
dont jealous can?
LOVE my look too much ?
simple ,
HERE'S a foto for u , babe.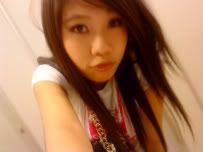 Hahaha .
If u wanna prove to me u are MOREEE prettier den me.( ie doubt so )
lets meet up .
listen girl/boy ,
im 24/7 free to meet u <3
is only u DARE or DONT DARE to.
ie wait only.
LOVE YA , miss JEALOUSY .

alrights , so .. im going mapling soon ?
Hahah ,
stay tune (:

LOVES CAS ♥