Back home!
went out today , went to city plaza ..
bought some fake lashes and eye lash glueee.
costed $10 , same brand as SASA however cheaper by $4 .
Hohoho =B
mum wanted to shop something for maid too.
also , went to mustafa ...
wah , damn lots of bangalaa ...
Many like to hanky panky laaa .
wtf!

ie no idea whats so nice abt ..
touching a girl butt or tigh..
like? whats so special ?
Whats the intense feelings?
ie just dont get what these guys are thinking -.-'

Hahahaha , so after that went far east as mum wanted to let maid
have a better look on what singapore is like.
maid is going back to her country soon uh!
lOl,
so .. today was maid's shopping day.
But , ie must say ...
mustafa stuff are CHEAPPP.
ppl on barget shopping .. go thr -.-'
beware of stupid hands!
hah.

Alrights , so nothing much uh ..
kaming is back in camp .
lOl , one week of bk out now he's in camp .
gOsh! 1 week pass rly fast .
tmr calling to MOE.
for what ?
im nort telling ... cause its a secret that ie dont think
its good to reveal on a blog.

Blog isnt as private that can be written abt EVERYTHING ..
somethings , shuldnt be wriitten on blog.
Hahaha.
Alrights , so dad drove us home b4 he and bro went to geo's hus.
btw , bro cut his hand accidently with a penknife.
it cut thru is fingertip and even thru his nail.
OMG!
poorthingzx!

so , here are today pics!!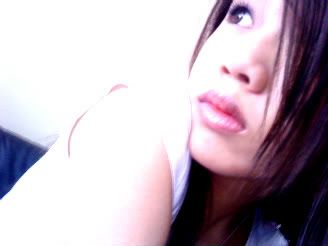 whenever im day dreaming , u are in my mind.


will ie be walking like this after 10 years ltr?
stay tune (:

LOVES CAS ♥