Home.
hmms :/
Yes pic will be posted today , however..
thr's some piic in shasha's mum hp .
will only be able to get them on fri or so ie guess .

Anws , tho life isnt going very well for me.
Haiis , upset and disappointed with everything that had happened .
But , ie asked myself.
Why should ie go ard with sad face or black face when ..
things doesnt change , nort as if me walking ard in black face den ..
everything will go back to the day b4 ie knew that thing right??
what happen happened.
So , no matter what ..
ie will put a smile on my face ..
Peeps , just stop talking abt kaming to me alrights?
cause the moment u guys mentions his name ..
it rly affects me alot.
and ie have to pretend to be happy and smile while u guys talks to me abt him ,
is rly torturing ...
Haiis =C

Altho he didnt made the decision to lost contact ,
but he claiming he fade feelings towards me is alr suffering enuff.
Haiis =C
we dragged for 6 month and cause of some stupid stuff ie said due to our stupid quarrel.
within a few days , he say his feeling towards me faded ._.
suans lers , ie better nort talk abt this baaa.

nuffnang is quite lag after they include aus in ..
Hope they fix the problem soon uh?

So yes , as ie said ..
woke up at 12:15 den went to bath ,
after ie came out of toilet abt to change ..
nana msg and told me she's very tired ..
so , we push back the time to 4pm .
ie didnt went back to sleep as ive been having stupid nightmares abt kaming
all night long , enuff of those nightmares laa!
i want sweetdreams!!
maybe dream of me and kaming walking on red carpet ?
hehehehees , that will make my dream so much moreeee sweeter.
so ,
ie went to eat some noodles soup (:
and watched some TV , till ard 2:30 , ie went to make up.
left hus at 3?
went to amk to shop for my maid some stuff ..
actually she asked me to buy some nail polish for her..
tho ie and her airnt close but ..
she have worked for us for 4 years and ie have nv been nice to her.
Thus , ie decided to buy the nail polish as a gift to her.
the fcuking black nail polish cause me $6+
Rahh!

After that , mrt to bishan as geo and dion came into the same mrt as us ,
off to town ..
went to paragon first .
went in gucci shop .. woah!
so ex ,
nana and ie were looking at a bag .

nana : nice hor ..
cas : yes , this bag nice .
nana : but cost $1000+
cas : after thinking awhile it doesnt match my mum!

Hahahas , so we went out of the stall ..
end up , we went to guess and spotted a nice bag which look
elegant and not cheap.
cost $229.90 , daddy sponsored $300 to us ytd (:
hehes.
Hopefully , mum will look good carrying this bag .
Hopefully , mum likes this bag .
So , went to wismar and bought some facial mask in SASA .
This is the first time ie gonna use facial mask laaa!

After that , we decided to go catch a movie..
went to lido and watched the chihuahua show!
super cute and funny!!!
ratings : 3.5/5

Movie seasons are reaching sooon.
thr's alr sooo many show ie wanna watch!
Broke alr , still watch movie -.-'
Yes peepos , ask me out :)

so , after the movie , we went to far east .
shopped ard ,
bought a ring , a braclet and a big specs.
Gosh!
ie spent alot today!!
rahh :(
After that home sweet home !

Bro hid mum's pressie in his cupboard .
Hoho!
anws , here are st jame piic and today's picc.
ie cant find a few pic , thus ..
when ie found them den ie will post it up yea?
PLUS , some pic are in geo's cam!!
Hahahas.
Ok , fcuking photobucket is so sloww D;

Sat's pic!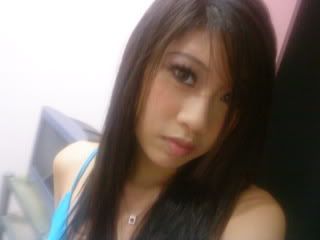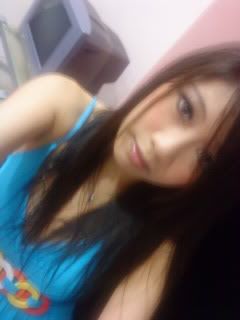 Back view of geo , sexy ?!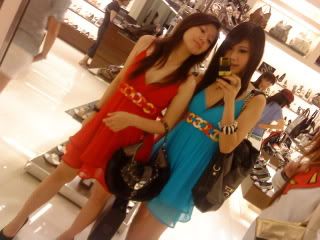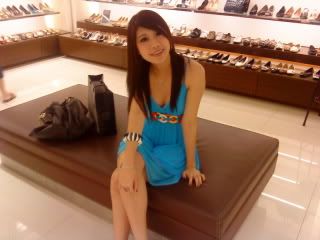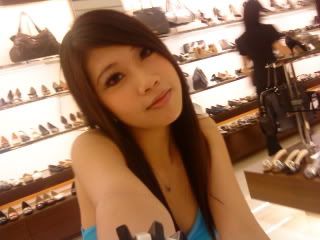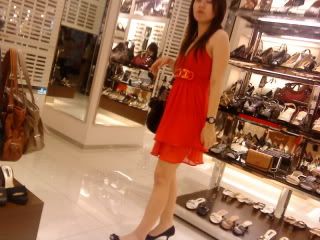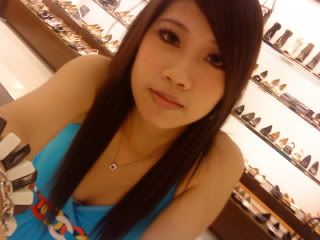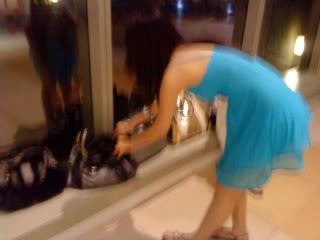 candid shot.
lOls!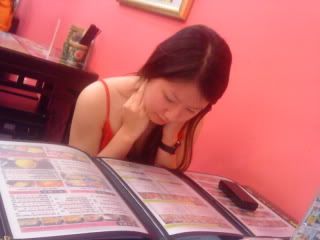 Ater clubs , went to hongkong cafe to eat our breakfast .


My head was fcuking pain , vomitted after ie left.

Todays pics.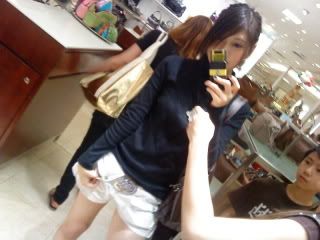 Geo wasnt touching my boobs.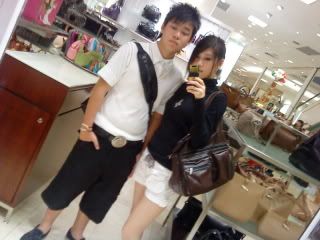 Bro and me , ladies .. he's single (:
Oh , decided to tie my hair HIGH HIGH today .
hehehes (:
change of hairstyle .. cause its quite boring
going out everytime with just plain old same hairstyle yea?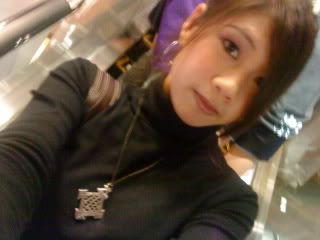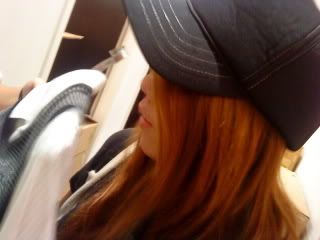 Nana's beautiful hair color!


Hahahas .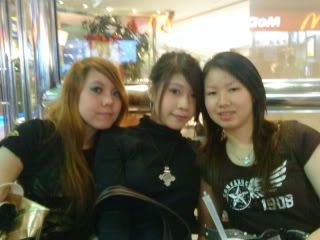 My loves.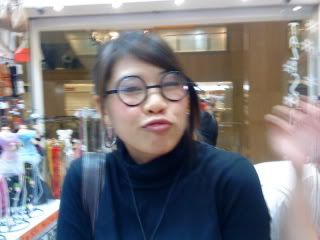 me acting cute but doesnt look cute.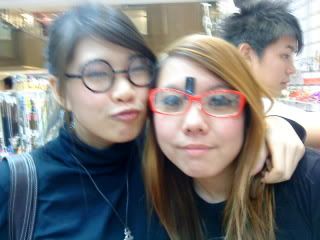 fooling ard with the specs.
So funny la ,
we went into this shop ,
and all of us were like looking at all these cute glasses.

cas : wasted cant take pic .
salelady : can * as she nods her head *
cas : can?!

immdly start taking non-stop ,
after that felt rly bad if we didnt buy as we took fucking lots piic with their glasses la!
Hahahahas !



specs reflection causing my eyes to look ugly.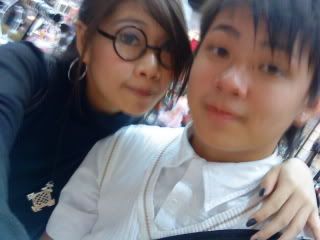 Me and brother!


Ok , this sunglass is super cute laaa!!
But , ie will nv wear it out.
Hahahahas!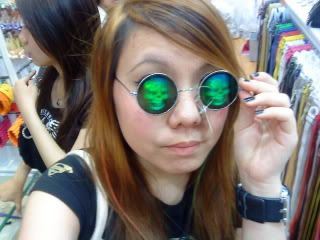 Look! so cute !


Ok , ie wasnt rdy laa hor.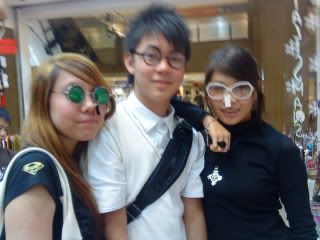 The tags ruin the pic!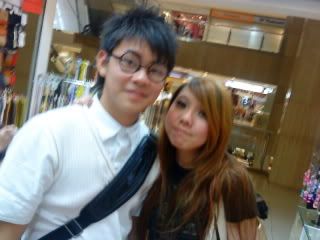 Nana called him lao fu zi.
Hahahas , once agains ..
he's single (: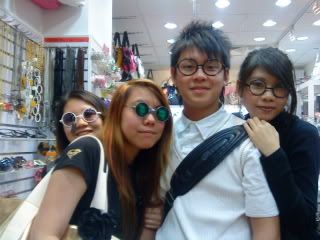 So cute , end up we bought the specs bro is wearing.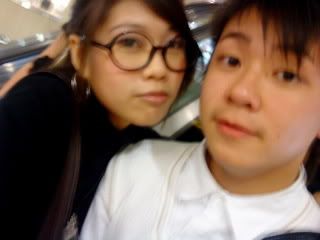 Wearing the specs.
hehe!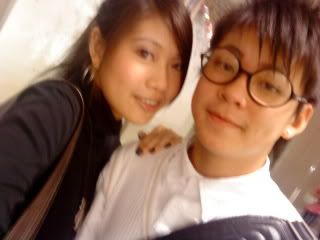 Bro's turn to wear.


LAST pic of the day , do ie look like a student / teacher?

Alrights ,
gonna let bro use his com .
stay tune(:

LOVES CAS ♥