Homed ;)

Georgina , ie gt my butt out of bed today.
lol!

kaming msged me in the morning.
quarrelled ...
den suddenly , he msged me a sweet msg.
lOl :/
so , we were ok .

den , woke up changed and meet him.
cabbed to his hus.
slacked at his hus , ask him cook for me ..
he pretend to sleep.
kuku narden :x

so , after that he on his sister wedding video for me to see.
So romantic...
ie wanna walk on red carpet one day (:
with my future husband ♥
Hahahas ,
after that ...
go to paris for honeymoon ...
HEHEHEE , Oh ...
my wedding car shuld be...
hmm , ie dunwans a car ..
ie wan our own areoplane...
-.-'

Okays , im just having fancy dreams.
it wunt happen unless im president daughter- in law.
Hahahas.

So , after that ..
went to mac together.
ate mega mc spicy...
woo!
was super hungry ie tell u!
And , ie eat till my the chicken stuck on my teeth .

kaming : Ur mouth ... * give me that eee face *
me : * laugh , den drink coke and clean my mouth at the same time..
EEEE , still have?
kaming : no.

Hmmm , ie realise..
im just very comfortable being with him ..
ie dun care if my mouth have chilli sauce ,
or if ie sleep in a ugly position ,
or ie the way ie laugh or sneeze ..
ie dun mind being ugly infront of him ..
ie can just behave naturely..
He is the first guy whu saw me in my ugly home tee,
messy hair , w/o make up and wearing specs (:
ie like that feeling .

after eating ..
we sat down and chatted.
Still decided to take things slowly abt our relationship ..
yi tian guo yi tian lor.

So after reaching hm , mum picked me up and we went to clarke quey to eat bak ku teh with
geo they all (:
lOl !
ate alil laaa.
after that , home swt home..
lOl.
Piic now as ie promised (:

overdue pics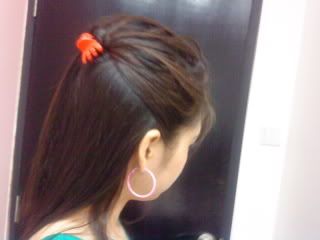 Just a random piic.



Ahma's birthday ;D


Two birthday cakes.
dont mistaken , it isnt 2 birthday celebration.
family was afraid thr wouldnt be enuff cake for everyone , thus bought 2 cakes.
Cute huh?!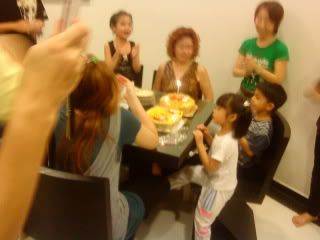 My precious one and only grandama ♥


Happy birthday Ahma.
I love you... forever (:


Random pic taken by idiot geo .
ie like my hair..
Hahahas :x

today's pic


Taken at kaming hus while he's wearing his shoe.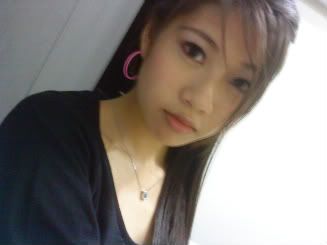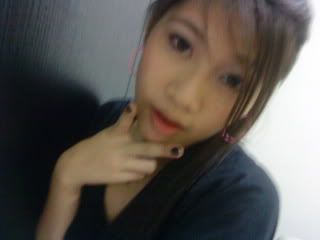 Random post!
stay tune (:


LOVES CAS ♥