12:39am
HOMED ;D

hahahas ,
went out with weiseng today ,
asked chia out but she dont wans :(

anws , recieve a msg frm weiseng at 12 ?
and this idiot , finish work in the morning and woke up at 12?
crazy ass.
hahaha!
so , woke up ard 3pm , spent some time with my love , mayko :D
and ard 3.30 , went to changed and make up .

met up with weiseng at cathay as we wanted to catch the movie 'BOLTZ'
ie was late laas ,
but it isnt my fault OK?!
he didnt told me that we are meeting at 5 at cathay .
ie tot usually standard place is yck / amk ma.
lol .
but , ie rushed and was only 15mins late :D

went to buy tix , however ,
we saw that cathay is showing ' TWILIGHT ' so we immdly
changed our mind and watch twilight .
today was weiseng's treat .
THANKKKYOUUUU ;D

so as it was still early ,
we decided to go to ps as ie feel like eating mac .
den walked ard and went into sasa .
bought ' Nose Pore Cleansing Strips ' as
balck heads on my nose are increasing ...
im gonna RIP THEM OUTTTTTTT!!
hahahas.

den while we were walking back to cathay ,
saw ivan and his stead.
hahahas , chatted den went off.
buy popcorns ,
agains his treat =.-
lol ,
watched 'TWILIGHT'
and seriously , it isnt that nice.
well , nort as expected.
like no bloody part , kissing part oso very less =.-
but its a PG show maaa , so ... bo bian.
nort that interesting .
and the ending alil weird?
lol.

PLUS , ie must say the male lead actor isnt very handsome.
edward .
He isnt as handsome , in fact he look weird .
maybe cause he is toooo fair?
but he look handome at night .
lol ,
ie guess its make up problems.
well , overall ....
not that nice ba.
ie expected it to be those vampires show ,
sucking blooding frm necks ,
poking thru hearts , bloood splashing out ...
and because vampire shows always have hot guys kissing hot girls with bigg breast .
this also dun have ,
lots of things airnt what ie expect .

ratings : 7 / 10

After movie , we saw a band singing at ben and jerry ,
so we went to sit there and listen to their music .
and weiseng went to buy ice cream and we shared .
His treats agains =.-

the band singing are goood ,
they have good voice .
lol ,
weiseng requsted a song ..
ie forget the title but not bad .
ie wonder how they handle every song so well ,
what if a person requst a song with HIGH PITCH ?
how are they going to sing it?
hahahas, pei fu .

after that , decided to go home.
wanted to go boat quay ...
but he say ltr ie drunk ,
my mother going to kill him .
hahahahs!
so , went amk first as ie want to eat!!
after eating ,
last bus gone alr ,
decided to walk home ...
but walk half way my toe pain .
lol , thus ...
we took cab lol .
He pay agains =.-
after that , he took cab back to paya lebar ie think ?
so far right?!
guess he spent alot today la.
haiiyOs =.-

anws , here are today's piic :)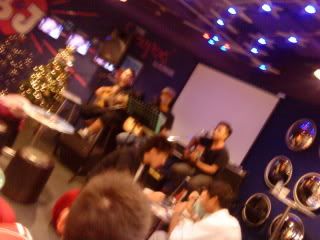 The band .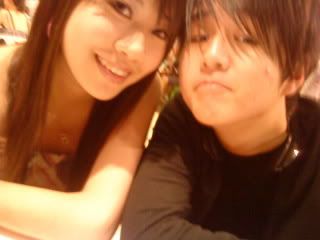 me and his jiaobin . hahahs , he look like xiao didi here la.


acting cute ? hahaha , im cuter right!
obvious =.-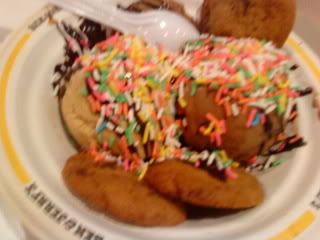 our ice cream.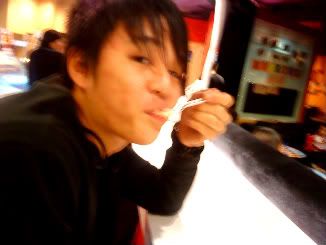 yummy :p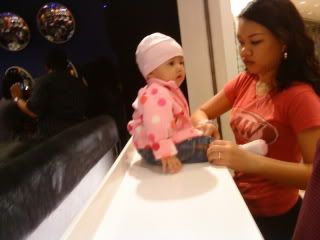 This baby is super super cute la!!!!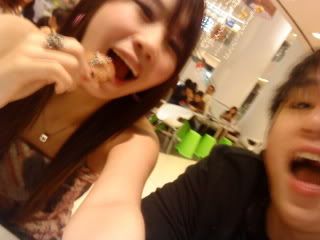 ie was trying to find a nice pose to take eating this cookie and
weiseng show me this pose.
hahahahs , ie so happen to take myself with him showing me this pose.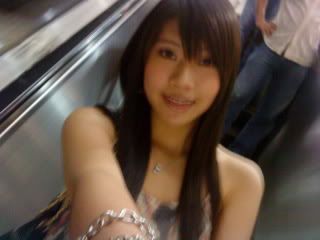 My smile is super fake!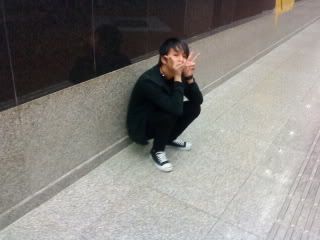 Haha.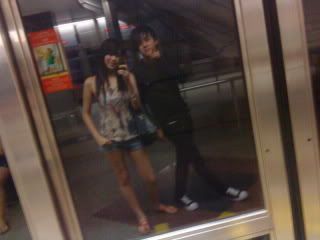 The last time ie wore this top is when im in primary sch , believe?
lol .
Ok , thats all for today .
going genting in 1 day ;D
hehe.

stay tune (:
LOVES CAS ♥

ps : Thankkyou for all ur treats my friend :)