HOMEEE (:
and just ate magee mee!

woke up ard 9 today cause cant sleep , ie dunnoe why .
lol , actually ie usually wake up ard this timing ..
den after that ie would fall back to sleep agains till abt 4pm .
However , since today gonna wake up early .
ie just slacked in my bed ,
day dreaming for awhile until nana msg me :)

Hahahas ,
so woke up bath and make up .
after that , cam-whore alil ...
den , went out :)
standard procedure
Heh!
was late today , SO WAS NANA .
however , im later la!
>.<
Okay , this super nana actually didnt sleep the whole night ...
till now she's still awake .
PRO right?
ie salute u man!
if its me , ie dun think ie will be able to walk at all laa , cause..
shurely , ie will feel like fainting >.<

Hahahas ,
so .. met nana at subway .
bought bubbletea and headed to the bus interchange .
took 130 all the way to wampor ,
unluckily , the lady who cut my hair was on off ,
so .. a male hairstylist helped nana cut her hair .
well , Okay la !
nort bad .
just trimed her fringe and hair ..
lol ,
At the same time , weiseng msg-ed me.
cause he readed my blog that ie wrote ie wanna watch moviee.
hahahas.

so , after cutting hair , we went to bugis and met weiseng.
walked ard for awhile and headed to far east .
ate and shopped.
Hahahas!
jio geo to come find us after work :)
nana went for hair extention ...
total cost $160 .
and ie poke my finger , was eating fruits and the stick poke into my finger , super pain la.
hahah!
and now ie think my finger gt infection?
cause thr's yellow discharge coming out frm my wound :(
whu wanna give me a kiss on my finger!! :x

after that ...

Went to lido , bought the movie tix.
watched QUARANTINE
and my rating for this show is 1/5!
This show can simply go fcuk their mother ass la!
wtf , is

` A WASTE OF MONEY ,
` A WASTE OF TIME .
` A WASTE OF ENEGRY TO OPEN OUR EYES TO WATCH
` A WASTE OF EVERYTHING.

Is totally a very stupid and joker show.
The advertistment was SOOO ATTRACTING , ie was like
'wah ..This show must watch la! '
and ie tell u , ie fcuking regret spending $8 on this ticket!!
is like the 2nd worst show ie have ever seen ,
cause the 1st one was 'KINGDOM' whr me and kaming actually left the cinema .
but .. this ,
wah ,
scary part and everyone is laughing?
wtf?
some part are quite scary ...
but its nort exciting at all .
its like nana even fall alseep ,
imagine how boring it is .
PLUS , there's totally NO fcuking ending.
the moment the show ended,
everyone was like ' FCUK LA! '
lol , what a stupid ending .

warning : DO NOT EVEN THINK ABOUT WATCHING THIS SHOW TO THOSE WHO ARE PLANNING TO WATCH!
CAUSE I RATHER U SPEND UR MONEY ON SOME OTHER STUFF!!
hahahaas!

will be watching another movie with nana and geo on SUN night .
HOPEFULLY , this time round ..
there wunt be regrets yea?
we are watching ...
' WILD CHILD ' , anyone who watched it .
Do tag me to let me noe if its NICE or NOT :)
thankyooou ;D

So after the show , everyone was complaining ..
went to paragon to walk awhile ,
as branded goods are having discounts.
lol !
and weiseng needed to rush for work ,
so .. we too were so tired ,
so , nana and weiseng took another mrt as they were going to
different direction .
geo and ie headed to bishan and rushed to buy mum stuff .
after that , ie took mrt to amk while geo bus home :)
Hahahas ,
so now ...
HOME SWT HOME.

Ok , thr's like so many piic today laa .
cause we cam-whore alot while we were slacking waiting for the movie to start .
lol .
Bare with me peepos :)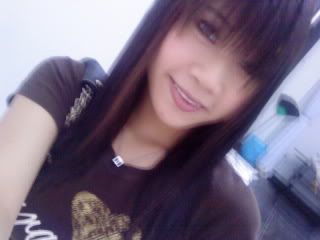 Taken at home :)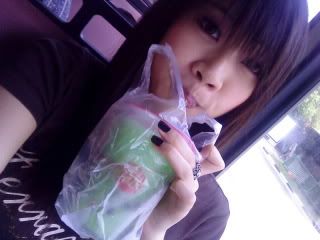 In bus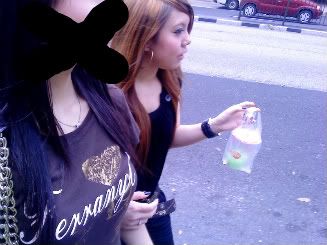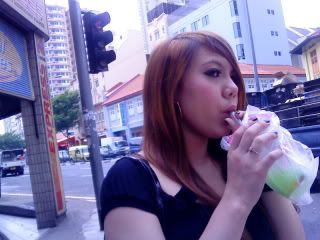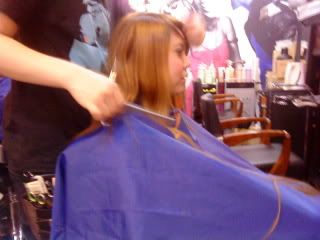 Candies shots of nana :)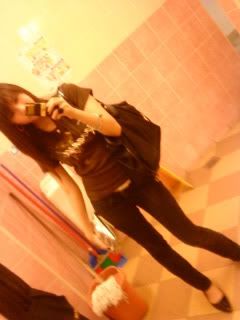 cam-whored in wampor toilet :)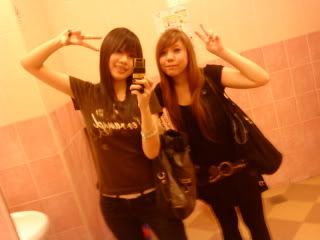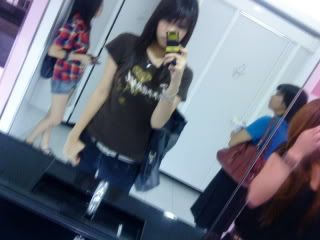 Bugis toilet !


Pics of weiseng.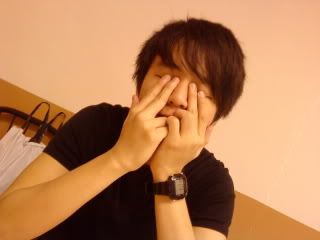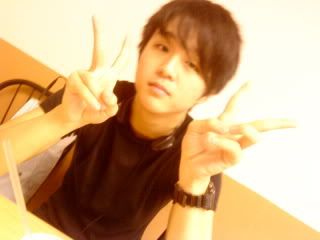 he think he very cute, HAHA


His trademark !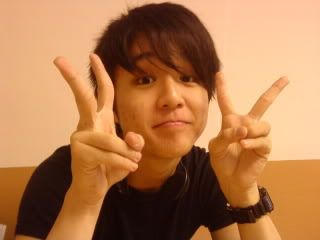 ACT CUTE.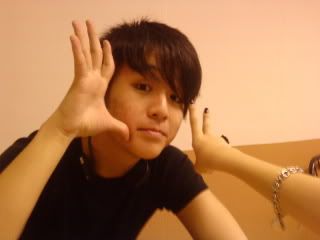 My finger nicer.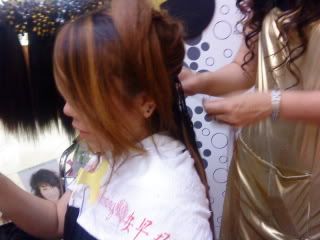 Nana doing hair extention


who's that extra ?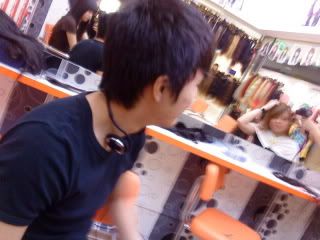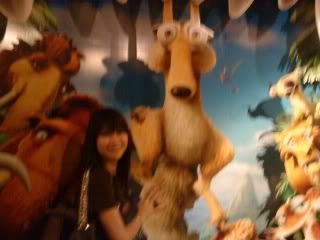 at lido.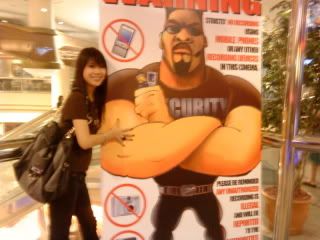 ie love muscle guy! * open big eyes *
My new boyfriend ppl!!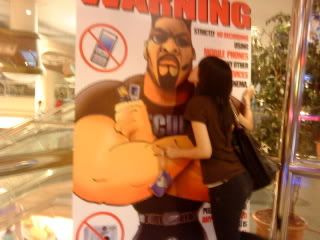 Oh baby , i love youu ... MUUUUACKS!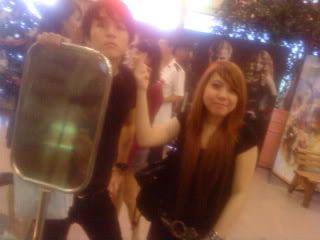 nana point _l_ at weiseng ... weiseng giving that bu shuang look


So , ie helped nana revenage!! * PUNCH! *
' HOW DARE U BULLY MY COUSIN ' ie said .
weiseng : ' SORRYY!!! '
hahahahas!


Our starbucks only costed a few cents?
hehe!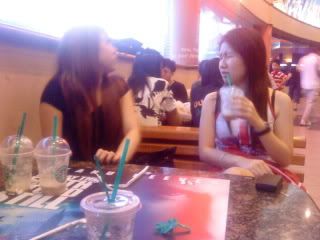 evidences of kiasu singaporeans queuing up at gucci shop!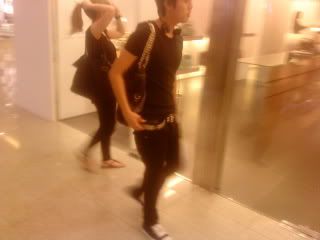 Got bullied by me ;)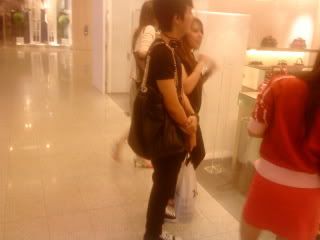 This bag does suit him yea?
right sister?
hahahas , joke!

Ok , all these pic above were taken by my hp .
Now , the next following pics is taken use nana's expensive cam!
( its loading now ..... 53% .....61%......100%!! )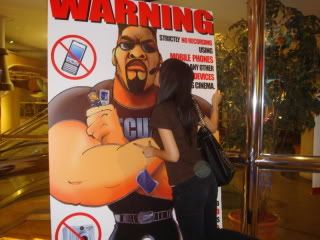 Hey! dont look while ie kisisng my boyfriend la!


weiseng , nana and me !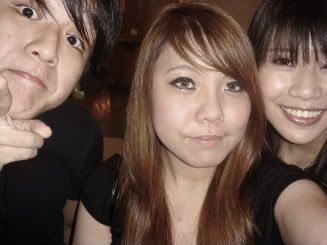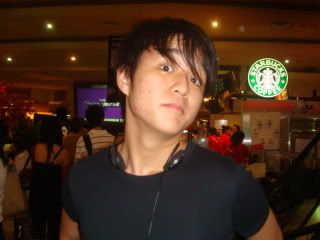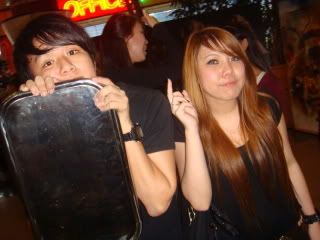 They both look so cute!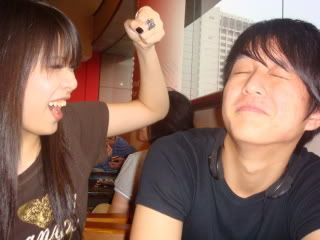 * BOX YOU *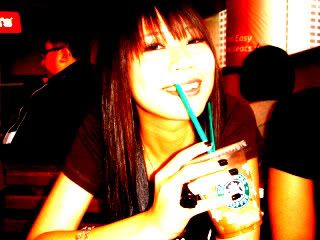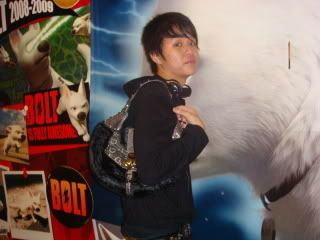 weiseng carrying geo's bag!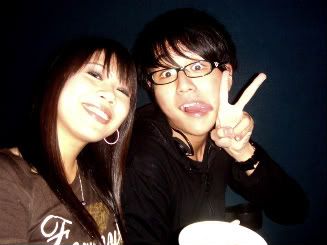 taken in the cinema b4 the show starts .
GOOD FRIEND ALWAYS yea?! ;D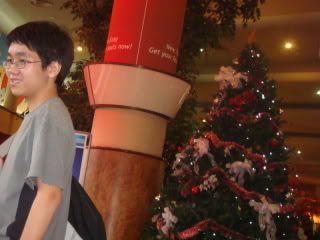 Ok , this guy doesnt understand hints.
its like , ie wanted to take the christmas tree ..
but he was blocking my view la ,
so ie ' AHEMM!!! ' VERY LOUDLY .
but he still didnt move aside.
wtf , so ...
we took him :)
LOL!
thats all!
stay tune (:

LOVES CAS ♥