reached home at ard 1am .
lol !
actually wanted go boat quay with weiseng aka DODO for a drink .
but , bro is out on chalet .
so , mum had to wait for me to reach home to press open the gate.
so bo bian !
dodo and ie take cab home.
hahahaha!

woke up at 12:50 and change ,
called him but he haven wake up uh .
so , ie continue making up ..
till abt 1:50 he msg me he just wake up =.-
We suppose to meet at 2!
lol , so in the end change our meeting to 3pm
he took cab to my hus to fetch me to town ,
super ex lahs.
$20.
and he dun let me pay half.
wtf !
and one funny thing is ,
as we were abt to leave the taxi , the taxi uncle suddenly pass me a present
ie got stunned.
like WHY is the uncle giving me present ,
at that moment ie was like ' ie didnt noe sit taxi gt christmas present. '
hahaha .

No wonder , is weiseng's present for me.
lol , Thannkkks my friend.
didnt open it yet cause ie thought go home den open .
Oh , ie oso gave him my present ie bought frm genting.
Heng ie gt remember buy lahs !
ib nort he give me present ie no present give back den paiiseh!

after that , we to far east and shopped ard ,
causing im looking for a top for christmas.
haha.
didnt buy yet , just look see look see uh .
den cause im wearing my 3 inch heels today , my leg pain lahs.

cas : lets go buy plaster , my leg start pain liao.
weiseng : dont niid buy lahs.
cas : dont buy! den ie make u piggy back me.
weiseng : aiiya , open ur present lahs.


sooo , ie opened my present and ie saw a BOX of plaster .
so special right , give me a box of plaster cause my leg everytime pain.
lol .
den ltr , ie open up the box and ie saw a thing wrapped inside.
guess what ,
its a necklaces .
ie was super surprise lahs , cause the plaster box like never open b4 uh .
THANNNKKYOOUUUUUUUU DODO :D:D:D:D:D:D



haha , so after that .
went to mac to eat while we wait for geo ,
end up after eating finish call geo and told her to wait at wisma .
so , walked to wisma and find her.
den headed to cine ,
catch the show 'IP MAN'
and rating is : 8.5 / 10 .

NOT BAD lahs , its quite funny and nicee to .
with a GOOD ending somemore.
ie like!
wanted to watch 'The day the earth stood still '
but geo didnt want to !

sorry leh idiot , everytime finish the popcorn first .
hahahas
so , after the movie , geo went home first .
den left with me and weiseng .
tot yuwen will come find us ,but end up she tired.
lol ,
went far east to have our dinner .
den as its still early ,
we decided to sit flyer as ie nv sit b4 .
lol ,
mrt-ed to city hall and walked to the flyer there .
end up we were 17 mins late!
arrgggghhh , damn sadded :(
10pm the ticket counter close , but we reached at 10.17pm .
ke xi anort?!

so , anws . we saw a ' seaside ' ie dunnoe whats that lahs .
went the to enjoy the breeze and we ended up
chatting and listening to the music until ard 11:30 den we decide to go to the merlion there.
lol .
walked to merlion and sat awhile ltr decided to go boat quay .
hahaha , walk half way .
mum msg came.
so , bo bian
take cab lohs .

anws , ie believe ie will sit in the flyer soon .
hehe!

Oh , weiseng again pay for cab fare.
wahs , dun pay everything next time lahs.
lol!!!
so , anyways , thanks for ur plasters tooo , so useful today .
hahahahas!

Okays , here are today's piic.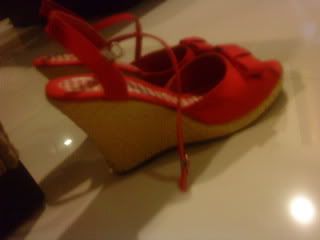 My 3 inch heels , woots~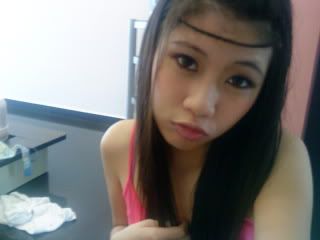 im acting cute lahs.
Hahaha , was free so , decided to make this hairstyle , eh .
NOt fake one ok ?!!
ie nv go buy those bands lehs , is use my hair de.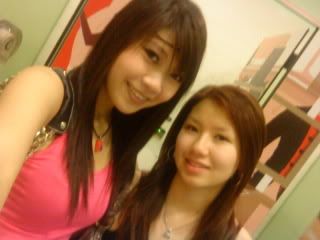 geo and me :)


geo wan me to bend down , cause she say ie too tall .
hahahah !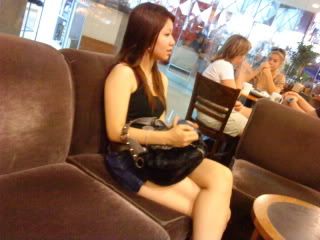 geo looks so cool here.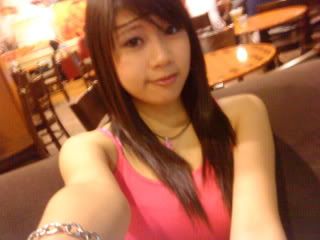 haha , cam-whore as we slack in starbucks.


hahaha , fooling ard after eating.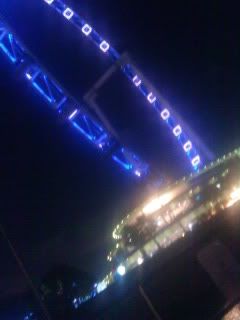 sitting inside one day :)


Only manage to take backview cause mr merlion is too fat to turn ard.
hahahahas , joke :)

Ok , thats all !
stay tune (:

LOVES CAS ♥