woke up at 4 today .
haha!

Had a goood sleep last night man ,
its like no dreams at all , just sleeping all the way .
:)
NICE , ie like.

and yes , ie stayed home all day .
My blister is painful and big :(
ie dun dare tear de skin out , cause if ie do , ie dun think ie will be able to bath .
ahahahs ,
comfirm pain like fuck ok!
so , ie didnt .
well , tats the consequences for walking for 4 hrs .
rahh!

But nbms , one time experience , all worth it :)
im just rly afraid that ie
might accidentally rub the skin and tear it .
well ,

anws , here are pictures of my poor lil feet .
If i have a bf right now ,
ie soooooooo gonna make him massage my feet for 2 hrs man!!
den he will have to kiss my blisters so ie would feel better.
sound disgusting?
But , ie have no stinky foot , so ..
no niid worry ;D
hehee.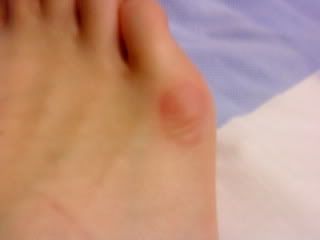 imagin if the whole skin tear out?!
this blister will be big man!!!!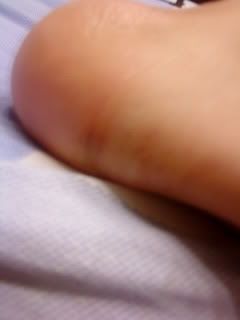 cant rly take a good pic of this as its at the back of my foot.
well , but the skin alr came off la ,but it isnt as pain as the other one.

Hahahas ,
alrights .
nothing much to blog .
im going to genting on SUNDAY.
So , peepos , dont contact me after sun cause ,
ie dunwans u guys to blame me when ur hp bills increase okays!!
ie will be back on 17th Dec .
Yes , MISS ME OF COURSE .
If u dont , ie will hate u alll :(

Oh , 18th DEC is the release of N lvl result , im SO SO SO fcuking nervous .
who wanna folo me go get my result back ?
hahahs ,
im so afraid ie cant pass N lvl .
cause , ie have totally no plans on what to do .
All im planning now is ,
move on with my life , promote to sec 5 and concentrate on my O lvl.
ie wanna keep myself super super super super BUSYYY so ie wont have time to think
about him or any relationships stuff :D
gonna get SO many tutions next year as im gonna push myself into passing 5 sub.
and im extreamly weak in math and sci ...
rly need to study hard on these 2 sub ,
however ...
not neglecting on my other 3 subs.

Well , all for future :)

STUDY HARD , PLAY SMART , WORK HARD .
stay tune (:

LOVES CAS ♥

ps : ie believe ie can do w/o a bf in my life , all ie need is friends.