Been quite long since ie last updated yea ?
Was pretty busy with cny , going to relative house to bai nian .
lol.
but didnt get much hong baos this year , cause
alot of my relative went overseas .
shags ~

who wanna give me hong baos?

So , nothing much to blog abt actually ..

Day 1
went to watch wedding game with family and geo's family.
ratings : 7.5 / 10 .
seriously can watch lohs , like super super funny.
however , mum say she dont find very nice , till that extend .
But ie find it super nicee.
suppose , maybe it's more for teenage bahs.
Hahahas ,

Day 2 .. went to kaming's block thr bai nian my aunt .
And yes, ie met him :B
chatted with him for 1 hr..
The time pass like water flowing .. so fast =.-
fullstop
later at night , met up with this beloved geo and watch bride wars.
ratings : 7 / 10 .
its nice , worth a watch .. but comdey isnt exactly that funny to me.
lol .
and after that K box with family.
had a tiff with bro , ruin the whole thing ,
like we only spent 1 hr in the room den mum sign the bill and leave.
darn ~
im still fcuking mad lahs.

Just dont talk to me abt respect when u dont even noe the
definition of R-E-S-P-E-C-T oka ?

So yeah , silent the whole day today .
what a ' HAPPY ' cny :/
sorry sheryl , ie totally forget to msg u taht im not going sch today ..
wanted to msg u after kbox..
sorry!!
I LOVE YOU <3

Oh , pictures :)
thr's still some pic in geo's cam ..
but she haven upload it yet :/
New year eve !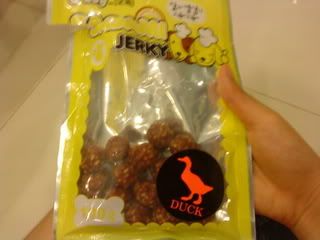 Bought this for my darling ♥
hahahahas :)
we enjoy steamboat , she enjoy her goodies.
Look at who came to our house to bai nian ;D



Mr Bobby and Mr jack who stay over :)
Hahahas!



3 differents breeds all crazy over their goodies.
LOL!
cute right?!

DAY 1 ,
before going out.


just wanted to take my double eye-lids.
lol :)


bro and me !


This is how we gonna look like if we are fat , LOL.


After movie.

Day 2 :)


More lady like on that day .
geo say ie look like a teacher =.-


Bro and me at my aunt house.


Geo and me after movie.
Hahahas ,
the rest will be uploaded after ie recieve the pic from geo :)

Stay tune (:

LOVES CAS ♥

p/s : The intense feelings is still thr when ie saw u . shags ~