HAPPY BIRTHDAY RAYMOND A.K.A AH COCK & MY DEAREST AH GONG!

Homeeed ;D

btw , ie didnt get to sleep last night!!!!
lie in my bed frm 1am - 6.20am with my eyes BIG BIG open .
ie tried closing them ...
but ie just cant fcuking sleep .
in the end , ie gave up and watch tv.

Hahahahs !!
so yes ..
FIRST day of sch , boring cause of talks!!
rahs.
met sheryl at void deck , spotted elain .
waited for chia and shiling.
they kuku , late sia.
lol , so we went to behind coffeeshop and eat morning breakfast .
den went to sch .
mr tan spotted us and wanted us to surrender our ez-link card .
we told him we didnt bring .
he wanted to spot check , heng we hid it well .
hahahahas :)

whole day talks , talks , talks .
wtf.
earlier noe like swee stay home and sleep .
well , at least one benefits today is ie get to noe when is the start of our remedial ..
so , ie can start planning for my tution lessons .
hahahas.
gonna study real hard this year siaa :D
just 10 more months to chiiooong and we are FREEE .
hahahaas .

well , ie think ie noe what course ie wanna take if ie can enter poly.
tourism , but niid 13 points and below.
well , now ie noe my target and ie gotta strive for that.
rahs.

But hey , im not becoming a tour guide oka?
im shure there is a job for tourism .
as , singapore depends on tourist to survive , thus ..
studying tourism does benefit my future and also a stable one :)

Hahahhas , am ie thinking to far ?
but well , its never too early to make plans for my future !
STUDY HARD is my principle this year .
ie must remind myself man .
ie seriously hope ie wunt give up half way and slack .
Rahhh!!!
>.<

STUDY is my priority , GOOD FUTURE is my goal.

Oka , here are todays piic.
lol , just some random pic lahs!
hahahas :)
ie noe ie dun look gd w/o make up , but whatever lahzxz!
First day of sch in 2009 must take a pic mah right?!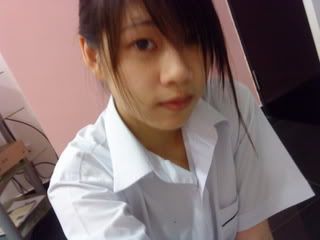 Goodmorning :)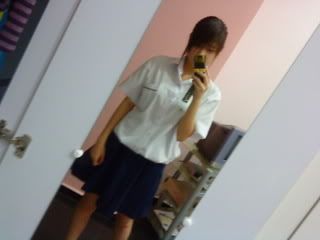 I'm rdy for sch .
hahahas.

Oka , thats all for today .
stay tune (:

LOVES CAS ♥

p/s : study comes first THIS year :)