When the world says, "Give up,"



Hope whispers, "Try it one more time."
Finally ...
im able to upload pic to my blog .
whew,
im suppose to be writing history notes on my fact sheet now .
but , im lazy today .
and im nort feeling well today .
block nose , headache... and slight fever.
ie feel so sick .
damn !
so , ytd ..
went out with family and buy some household stuff .
and back home as relatives were coming to our house for gathering .
guess , ie didnt sleep early last night ..
so , fall sick today .
or its cause im eating super less nowadays ?
idk .
shags~
SOMEONE made me super piss off ytd ,
ie dont want say name .
he noe himself can lers

HOR

..
cant take any stupid joke .
argh !
ie dont want to even say what that stupid joke is lah ,
but it rly pissed me off man .
ie was like

' wtf ?!!!! '
Also , some other stuff that made me pissed off ytd .
but ,
yeah .. its over .
so , ie dont wants to rank up the past .
childish-ness , cant be bother to entertain =.-
so , yeaaahs .
tmr history common test ,
agains ...
hopefully my hands co-operate with me tmr !
ie must think fast and write fast >.<
Hahahahas,
Oh here are the pic .
and georgina ♥
Zouk sooon yeah ?
LOVES LOVES !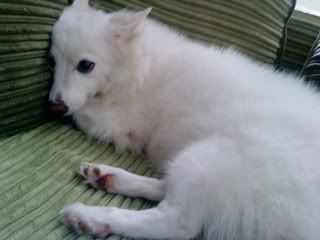 This is my lifetime baby!
and introducing my 'slimming ' methods.
lol ,
took it as i was super bored.
well , not eating is a form of dieting ,
but still excerising is needed too .
and , im like so busy with school work and stuff ,
how am ie going to squeeze out any space to excerise right?
so , THIS is my ' excerise ' method .
hahahahas , after ie bath ..
while waiting for my hair to dry , ie simply just fasten this ard my tummy ,
and start the machine..
after 10 min , it auto off ..
and my tummy starts to feel the blood flowing inside and then follow by a lil itchy-ness which
can be torelated.
SMILEEE ur way thru the DARKNESS.
ok , got to go do my fact sheet .
stay tune (:
LOVES CAS ♥