And you fall out of my hands


Out of my heart
And when you hit the ground
You'll be sorry that I'm not around , I will watch you
And you fall out of your mind
Out of your fantasy
When you hit the wall
Think of me
I'll be on the top just watching you fall

Hmms :/
just read a rly old xanga of mine , its like a year since ie use it ..
woah , so many memories flashes in my head .
still got pic , damn .
why am ie so stupid to go read that blog.
forget it , ie shall not view that blog anymore.

So anws , went out with my cousins , chia and sheryl .
OF COURSE we went to town , hahahas .
shopped thr , bought some eyelashes as mine are all ....
falling apart .
toook alot of fotos but cause my stupid com doesnt allow my phone to upload any pic inside.
ie cant upload anything .
guess , ie will have alot of overdue pic uh!
tmr gonna meet chia early to buy swee's birthday cake .
and den going celebrate .
wooots ,
happy birthday babe !!!!
hahahahahas :)

Alrights, a pic ie recieved frm sheryl .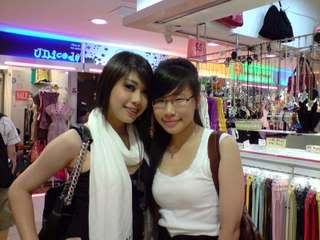 I LOVE THIS GIRL SO MUCH !
once u gain ur freedom , u better spend time with me :)
hahahahas!

And going zouk on next wed :)
wooooots ~
ladies night , the night for us!
hahahahas , happy happy .
had been dying to go clubbing lately.

And geo will be holding her 18th b'day at zouk .
opening bottles ,
wow ! this year will be a crazy clubbing year :)
hahahas~

Alrights , my eyes are killing me .
going to take out my lens ,
stay tune (:

LOVES CAS ♥

P/s : sometimes , once deeply hurt , nothing will ever heal the scar in the heart .