When a man repeats a promise again and again, he means to fail you.

ie realise , ie am so not ready for a relationship anymore .
after spending 2 years in a relationship .
and suddenly , ie realise the advantage of being single .
Freedom is all ie wan now (:
guess , im not ready for commitment at all for now :]

ie can go anywhere ie wan , dance with any cuties ie spot .
exchange no. with any cuties ie get to know .
and no one can say a thing , cause im single :)
flirting is never wrong when u are single !
hahahas .
as long as ie know my limits ;D

Just woke up , nana sleeping on my bed now.
hahahhas , she seems super tired.
she cam eto my house at 12?
and ie was like sleeping soundly on my bed den ie felt someone came into my room .
so , ie woke up and saw her .
and unknowingly ie fell asleep agains.

woke up at ard 1:50 + and nana said its her turn to sleeep .
Hahahahas , cute sia :)

anws , met geo at 8 and head down to cq ytd.
ate LJS and den decided to cab to phuture .
OMG , the queue is horrible man , its like almost reaching the bridge??
worst than christmas lahs .
wonder is it because of ladies night? =.-
hahahas ,
so in the end , we decided to head down to st james :)
got in , it wasnt so pack when we went in .
the tables were empty .
so , we waited until a lady climb on the tables and dance .
den we too climb on the tables .
hahahas ,
feel much more safer on the table lah .

after dancing for like 1 hr ?
we decided to get some drinks and the next min we got down frm the table .
the pack came in .
omg , super pack .
the tables were like so so so full , ie wonder how some girls still manage to squeeze themselves in thr.
no choice , we dance on the floor .
and sure enough , all the cheeky boys start approaching us .
1 of the guy actually tried to put his arm at my hip thr.
ie push his hand away .
hate touchy guys man !!
The guy and his friend even show us how they dance , the grind on each other den asked us to grind together too.
mad or what ,
we say ' no no ' and turn away .
hahahas ,

Also , thr's this older man with his friend came to talk to ask .

man : why u come st james? nv go phuture ?
( obviously this guy is always at zouk more den st james )
cas : Oh , cause phuture have MANYYY CHEEKY GUYS , den ie gave him a cheeky smile .
hinting : yes dude , ie meant YOU.
hahahahs !
den his friend came to talk to me while the other guy chatted with geo ,
guess how old they were?
at first , ie thought his friend were like 24 / 25?

guy : u dont look 18 .
cas : WHAT? im 19 this year * lie of course . ( nv giving out personal info. )
guy : im way older den u ..
cas : * giggle , how old are u ?
guy : guess .
cas : 21? 22? 23? 24? 25? 26? 27? ....30?!
guy : *shakes head , 31 .
cas : OMG , u dont look like .
and ie turned my head away immd .
ie was like , did ie just spent 2 mins of my time talking to a 31 year old guy ?!!
shit .
not much cute guys on that day =.-
thr is plenty of army boys tho .
hahaas.

we club hop too ,
and we went to this club , not sure what the club is .
woah ! all ang mohs inside .
ie was so unwillingly to leave when geo wanted to check out another club .
and all the ang moh thr are like super goood dancers man !!!
OMG , ie will stay thr all day if ie have too .
at least im with all the hotties rather den all those ti ko pek right?
lol .

wait , hotties are cheeky too ..
hmms , maybe ie will put it this way .
at least im with ti ko pek hotties rather den old ti ko pek right?!

we head on to boilers , den to firefly den to dragonfly ..
all the music was not our style ,
so in the end , we are still back to powerhouse :/
geo made friend with a bouncer .
and he said in future if he saw us , he will let us in w/o queuing .
YAYNESS :)

anws , here are ytd piic :]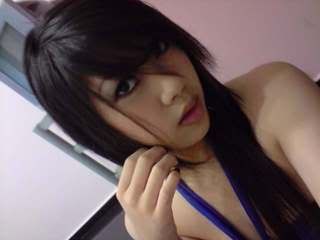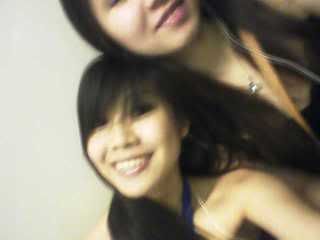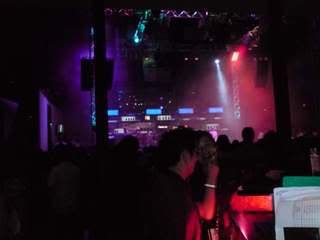 dragon fly :)


at powerhouse , snap a pic while on the tables .
and ie tell u , this guy fcuking look like kaming !
ie snap a pic den ie tot ie saw kaming in the pic ,
ie was like WTF ?! immd look at the direction ie snap .
but it wasnt lah .
whew ~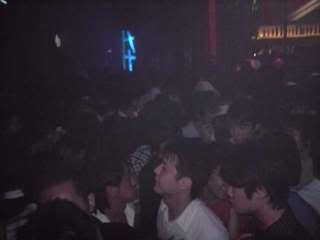 notice a sideview of a cutie?
hahahas.



The guy holding the bottle beside the ang moh is a super good dancer ie tell u !!

Nice guy :) hahahas .
he was like dancing towards us .. showing off his chests .
hahaas , cute guy :]

cas and geo :)
there are still more pic in geo's cam .
will get from her sooon :)

overall , had fun :)

Oh , some over due piic :)
having fun with the webcam.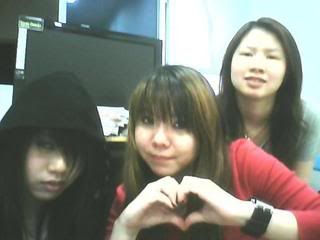 Ok , enough of my emo piic.
the love of my life :)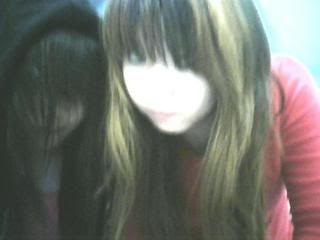 LOOK! a ghost beside nana !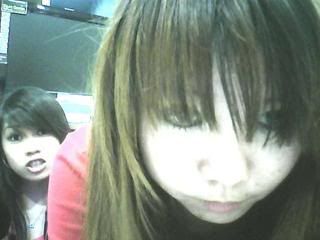 ie didnt noe why ie did that!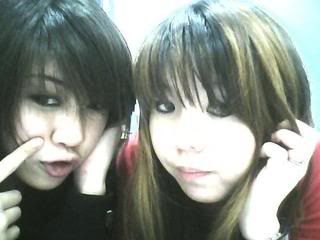 u can say im acting cute :p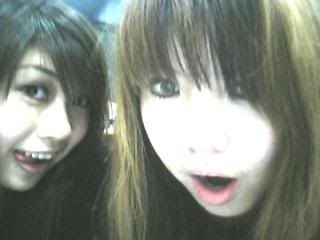 stay tune (:

LOVES CAS ♥