Another chance , another risk , praying hard that its worth it.



Okay , guess why im blogging so late?
Hahahas ,
ie declared myself good thursday :)
Will be going out with nana and geo tmr , going to catch ' Confession of A Shopaholic ' :)
and sat , will be going out with kaming :D
decided to catch 'Fast and Furious 4' , cause ie noe this boy will enjoy this show.
I'm such a nice girl .
Oh , plus ive to treat him eat on sat , cause ie lost to him a in game.
dammit >.<
Hahahas , im thinking what nice food should ie treat him to :/
hmmms !

Alrights , im quite disappointed with a teacher .
cause she said false things without even knowing the truth .
She called my ' mum ' who is my cousin , and told her i need to stay back .
Okay , i know ie didnt do her homework , so .. during my detention hours , ie walk ard the sch,
looking for her ..
but ie cant find her , ie asked teachers ard ..
they didnt know whr she is ..
so , after detention ie went to the library ,
and suddenly she appeared.

The next thing i know , she called up my 'mum' and say
she caught me trying running away =.-
wtf ?!
its like , im so pissed off by this when ie hear geo saying this .
damn ~
w h a t e v e r ,
im done with her HOMEWORK !

So , ie guess kaming is back in my life once again ,
and he's been rly rly sweet .. :)
ie seriously hope he remain this way always ,
hopefully , everything is worth it :/

Oh , i have this amazing thing to share !!
I went J-O-G-G-I-N-G today :B
hahahas , while walking home frm sch , suddenly ie had this urge to jog .
idk y , lol .
so the moment ie reach home , threw my sch bag on the floor ,
ie ask my bro to get change and go jogging :)
wanted to jog for 20mins , in the end ..
we jog for 1 hour + , super tiring .
but ie tell myself ' it will all be worth it :) '
Now , im going to plan my time wisely , leaving some spare time for jogging everyday :)
Heh !
But ie seriously think , im going to get muscle cramp tmr :/

Oh here are some pic of bro , looking so cute.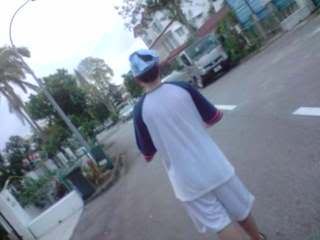 bro jogging , Just look at his sport style ! Hahahahahs :)


Hahahahas, ie cant stop laughing man !
Alright , shall end here .
cause im using bro com ,
and this POOR THING , need go sch tmr :/
hahahas ,
stay tune (:

LOVES CAS ♥

P / S : should ie wake up tmr morning to jog?