I should just stay mute .



I'm going to sleep after this post ,
just wanna upload a photo of our class :]]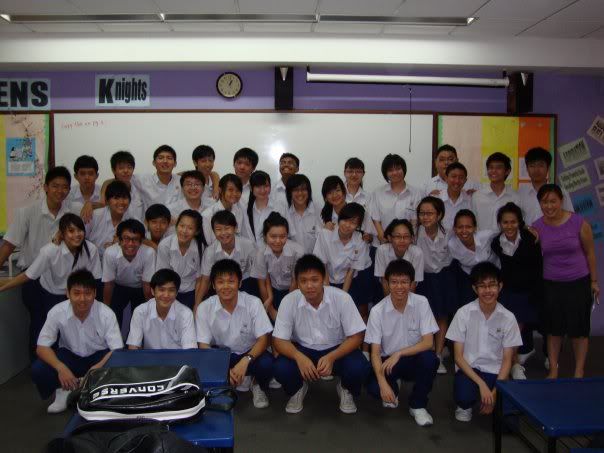 ♥5 COMPASSION 2009♥

and next i rly feel like ranting about something , but i guess i shouldnt -.-
My mood hasnt been pretty good recently ,
well , thats maybe cause i'm pissed off at couple of things , which i wouldnt say here.
But , its rly ridiculous man , i mean effing ridiculous .
I feel like i'm transparent at times , LOLS !
weird way to describe my feelings but yeah ..
i rly do .

i feel so tired during class lately , my enegry seems to have run away frm me when i'm sleeping at night.
Is it possible if i blame my reddie?
cause my mood has been affected , i'm sooo afraid that i would start to attitude agains .
and i'm so restless lately , its like ... a living dead zombie roaming around the school .
Lols , i manage to stay awake in class .
maybe cause almost all the teacher said ' today is the last lesson before your prelim . '
... ' today is the last practical ' , each time i wanna sleep and when i heard the word 'Last' I forced myself to stay awake and concentrate.

My next plan is that i wanna start my diet agains .
I think i want a 47kg this time.
I manage to shed 6kg the previous time .
Now i think 3kg shouldnt take too long :]]
Hahahas .
i dont want a 5 but a 4 *
poor tummy , going to starve agains . :/
Oh wells , it isnt easy to be a girl you know?
we have so many things to deal with .
emotions , periods , our weight , our complexion , studies , relationships .. etc ...
pity me? pity us ? Lols :D

tmr is English prelim 2 and after prelim , i will be having SS test =.-
damn . owe mdm loo 3 class test ,
guess i better get it done once and for all .
so after school today , ate at market and went to raymond house.
slept till 7:20pm and we headed for night study .
its rly time i boost up my study mood or i gonna regret after O -.-

alrights , think i should go sleep now .
Oh oh ! The pic on shasha's birthday will be posted up sooon :]
stay tune (:

LOVES CAS ♥

p/s : Each time i saw u , it rly make me feel so pissed off , idk y .. but i rly am starting to dislike you alot!