Things would remain beautiful if you heart wants it to.



I've stayed home the whole day .
amazing yeh ? wells , its been pretty long since i chose to stay at home instead of going out.
But i guess it's time i be a good lil daughter for my mummy and stay home for just 1 day. You know?
well , Mum came home asking me why i didnt go out , told her i wanted to watch tv at home.
she gave that suspicious look . she seems to have some kind of fancy thinking that if i stay home it means boyf and i quarrelled or something . :/
how weird !!

So anyways , my family seems to be having a mooncake fiesta !
they bought so many boxes , 3 ytd which i finished 2 boxes already !
Tsk tsk .. fattening man !! * ( I dont dare weigh myself.)
and they crazily got 2 more today.
1 box was the children kind? i'm not sure what it is , its small ..
and someone gave mum bird nest mooncake. woah ! :D
i believe geo must be drooling uh .
BIRD NEST mooncake , lols.
Mum took a bite first and she was like ' NICE !'
so i tood a bite and almost spat it out .
I dont like it , it taste horrible , i even felt like vomitting.
Guess i just dont know how to eat good food huh .
Well , overall .. i guess the traditional mooncake is still my perferences.

People tried to create new idea , adding new flavourings into the mooncakes.
and they are totally ruining the whole idea of a mooncake.
Now there's greentea mooncake , ice cream mooncake , bird nest mooncake . i guess soon there would even have sharkfin mooncake?
how people tries to make changes to nowadays world.
tsk..



Look ! Mayko was being a kaypo too.


This is the children mooncake? Lols , mum took a bite and gave the rest to mayko.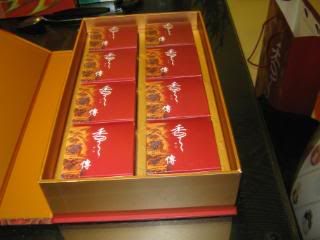 BIRD NEST MOONCAKE..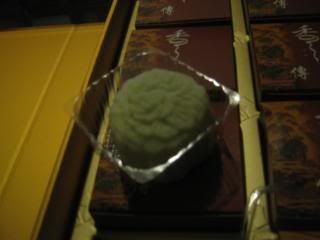 (:

when i heard of it i went ..
cas : Bird nest ?! WOAHHH.

and when i tasted it , i went ..
cas : YUCKK!!! i feel like vomitting !

I should start to learn to eat bird nest , i heard its rly good for complexion !

And tmr will be going out early (:
will be going out with boyf , its our 3rd month.
And i wanna catch The Ugly Truth , i heard this show is awesome !
I must must must watch it >.<
hahahas (:

More updates tmr.
stay tune (:

LOVES CAS ♥