Got to find a job soooon :/



I AM B-O-R-E-D!

yes , i have nothing to do at home now , ultra bored.
watched the drama ' Hi,my sweetheart ' , its seems to be an ultra cute show.
cant wait for xiao zhu to become handsome but also .. he is ultra cute in his cutie pattern .
Hahaha , i'm waiting for ep 3 now.

Anws , i overslept today !!
tsk , i only woke up in shock at 11:57AM.
i was suppose to be awake at 8am & i didnt know how i missed my alarm clock .
so unlike me , guess i was super tired .
have not been getting enough rest for the past few days . :/
First thing i did after opening my eyes was to take a look at my handphone ,
i expected that boyfriend would be so ultra mad at me for not turning up .
But nope , he sent a msg which i find rly sweet.
confidental * (:
But it made me smile & i apologise to him before going back to sleep.

Woke up at ard 3 , changed and went to his house to meet him .
wanted to watch tv so i pester him to go watch movie .. IN THE END after he got prepared ..
we realise there's no more show from 6-7pm.
tsk !
so i told him im craving for yami yoghurt ... & we head down to bishan with qinghai and steven .
Ate my yami yoghurt , it was heavenly okay?!

The boys went to play arcade for awhile & ltr boyfriend went to meet his other friends as they
would be partying ..
went tpy , waited with him until all his friends came and i went home (:



(:


Love.


Him getting all dress up for his party night.

Cute part --> Dear asked me to help him dress up for him .
And i was thinking .. how?
I dont want him to dress up too nicely cause i dont wants ladies to be rubbing their butts on him -.-
But i also cant let him dress till too ugly , cause he's my boyfriend !
headache headache , haha~

So in the end he wore a black singlet & a former top to go along with a jeans.
He felt it was ugly ..
but , its alright lah ! not too nice but not very ugly either .
hehe :B
yes , im so mean .. i know right :P



My yami yoghurt ~ bought medium size today .



Steven playing his game.


so is boyfriend.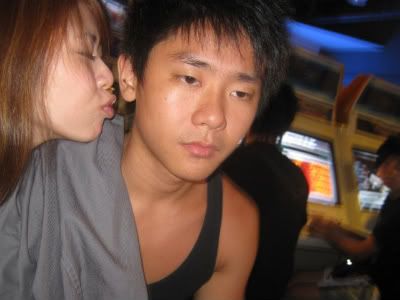 so i fool ard with my cam while he's playing his game.
so serious face ..



Handsome boyfriend.


Last pic of me & darling .

Alrights , gonna off the com alr ~
stay tune (:

LOVES CAS ♥

p/s : Thinking about boyfriend , misses him .