The sun only appear and shine when you feel happy :)



HAPPY BIRTHDAY MUMMY. ♥
Its mummy birthday & i didnt have any money to buy her present .
how sad , i know :(
But i promised to buy once i get my first pay !
haha~

so anws ,
woke up at 10am , changed and head to boyfriend's house.
rained before i could reach his house , so called boyfriend.
He came to pick me up from the bubble tea stall to his house (:
Slacked awhile , watched tv together till 3 and we went down to buy bread for my lunch at work.
Headed to work after that , sales was quite good for me today .
2nd day of work and i did $200+ of sales .
coool , im proud of myself.

was suppose to go grandma house after work , but mummy changed her mind last min .
so i met up with boyfriend and friends for movieee !
watched 'NEW MOON' ,


RATINGS : 7 / 10

I understand that many said this show was boring ... and the ending really sucks.
But to me .. its just base on the storybook . (:
so i felt it was okay .. not to mention, Taylor Lautner was extremely hot isnt it .
hahaha , i would seriously choose him rather than Robert Pattinson ..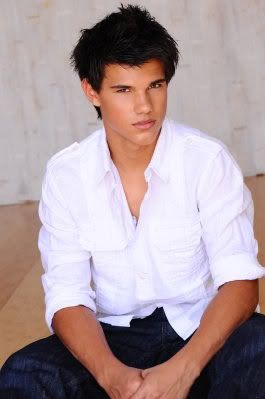 OR



obviously ... Taylor Lautner.
Cant wait for eclipse to be out next :)

but .... my loverboy is still Raymond chong kokwai!

so after movie cabbed home .
Okay , im going to bathe now & call boyfriend ltr.

STAY TUNE (:

LOVES CAS ♥