You are simply just exaggerating.



I just reach home ,
went to amk garden mac to study again .
Some of my friends have alr finished their papers.
My paper only ends on the 10th -.-
sighs .
nvm , time passes very fast anyways.

&& im super pissed off right now.
with none other but my parent , or should i say my mum.
God , i have no idea why her sudden change ..
and if she got angry over what i suspects it is .
she is simply exaggerating , i'm 17 for god sake.
& F.Y.I turing 18 in just 3 months time .
she got to realise i'm no longer 13 or 15 .

I have a mind on my own , i think and decides things myself .
I dont need approval to anything except things that involves money .
and i believe i have every right to do anything im please with .
If you simply have to go against it and be a mean mummy ..
den i will end up being that mean daughter you used to have .

God , open up ur mind & deal with it .
its nothing to behave in such manner ..
i'm just really stunned in how you reacted to this ,
your absurdity is NOT appreciated.
you know i wont give in , like you .. im a stubborn girl .

- I love you mummy but you are simply exaggerating .

Another thing .
Had been blog hopping and i suddenly realise i've not been dolling up .
i go out everyday with just my fake eyelashes on .
no eye shadow .. i wear normal shorts and t-shirts with slippers.
I kinda miss dolling up .
haha ! random feeling .. i know.
but sometimes dolling up are nicee & fun.
misses those day when nana came my house and help me with my hair while i do my make up.
and putting on clothes like as tho im in singapore as a tourist .
wearing heels , a shade and even scarf .
haha !
its super fun :/

shall wait till O lvl is over & fun fun fun begins.
hahaha , shopping for nice clothes and wearing them around singapore.
woots ~
& i need to go for a make up shopping spree soon !
damn >.< ALOT , cause make up are expensive.
just a foundation could cost me $100+
Not to mention other stuff .. sheesh !

here are today's pic.
starting with me cam-whoring !


did japanese bun today .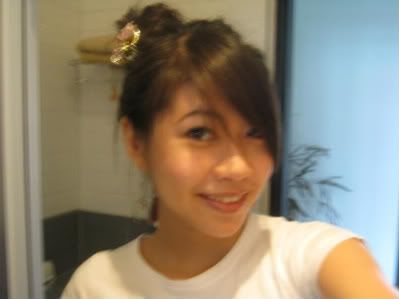 taddaa.

At garden mac


Boyfriend was so tired today despite waking up in the late afternoon at 2pm !!
tsk tsk !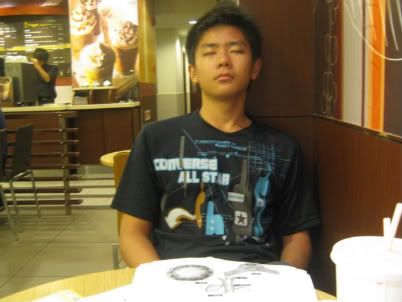 This show how tired boyfriend was.


qinghai came to meet us , and jackson came too later.


and last photo of me (:

tmr's POA paper .
B-O-R-I-N-G !!
stay tune (:

LOVES CAS ♥