Time passes quickly when you are in love and you can never get enough of your love.



Okay , i'm blogging now cause i have absolutely nothing to do .
I'm planning to give a 2nd try & give boyfriend a morning call .
I failed the first time , tried to stay awake till 8am and i fell asleep at 7:30am .
imagine that ?!
haha , this time ... I'm not going to lie on my bed at all !!

Slept till 4pm today & when i wake up i saw 2 messages.
1 is from bff & another one is from boyfriend telling me how tired he is.
changed and head down to town to meet him .
& i find him really cute .. * decided not to say abt it , but this silly boy is like ultra cute today .
cant stop laughing .

went to his house & he told me he wont be sleeping.
so while he lie on his bed , i was using his hp and the next min .. he fell asleep -.-
could imagine how tired he was tho ..

cas : i go home first k , u go sleep .
dear : Dont leave me !
cas : i'm not leaving you.

sound so sweet right :)

Let him rest awhile & ltr he bathed and send me to the bus stop .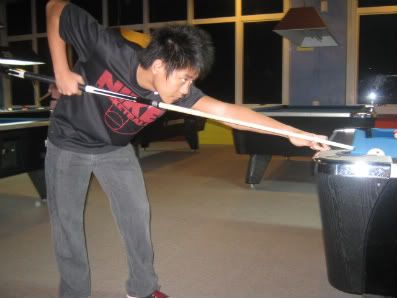 He playing pool at cineleisure.

Anyways , was suppose to go tawain this holiday , but its super EX !
so boyfriend and i were discussing about going to malaysia instead .
First trip with boyfriend & friends , im really excited .

going to watch 'The Hills' now.
stay tune (:

LOVES CAS ♥