I love you ♥



Hello! I dont have much thing to blog about .
I guess my blog turns boring after school starts as everyday is the same routine.
I'm just trying to adjust my timeline between my school work and my bf .

School was pretty boring today because lesson are not conducted officially . I cant believe i'm actually studying POA again.
HAHAHA! i hope the lecture now is better than Miss chee.

I was watching my watch anxiously as the clock ticks by , waiting for it to reach 5pm .
After school , i went to J8 to changed and hurried to meet bf at bugis.
Gosh! I miss my boy so much , i just dont know why!
Its his first day of orientation and he said there isnt any pretty girl in his class.
Bad news for him , Good news for me ! :)
HAHAHA!
i want to fetch raym from his school but my timetable is so screwed up .
My earliest dismissal is at 4pm and my latest is at 5pm which is almost EVERYDAY.
fucked up.

I hate the fact that raym and myself are gonna spend less time together . BOO :(
It makes me miss him more and i cant concentrate on my studies. ( EXCUSES. )
I love my boyf la ♥
Our 10th is reaching and it falls on a weekend . Yay !
I love ♥ 260609.

I wont be going school tomorrow . Self declared holiday , so did raym ! haha :D

PICTURES ^^


Before getting my hair dyed black on Tuesday .

Bf was really nice and sweet to accompany me , its really boring to wait for someone while they are getting their hair done la .
I feel his pain !
Thanks baby♥


On our way to whampo.


Lucky he had his Itouch to keep him company.


Look how bored he was .


after my hair was done , we headed to mum's shop for dinner :)
yummmmmmmmmmmy :P , Spell D-E-L-I-C-I-O-U-S please!

After that , headed down to amkhub with bf & steven to meet the guys .
decided to watch 'The man who stares at goats .'
& please dont ever ever ever ever ever * out of breathe . * EVER EVER EVER watch this show!
Its so effing boring and it sucks la !
FUCKED UP SHOW MAN ! i was yawning away , jackson fell asleep ..
seriously _l_ !
RATINGS : 1 / 10
Thumbs DOWN to this film man!



C & R , qh photography skills not good.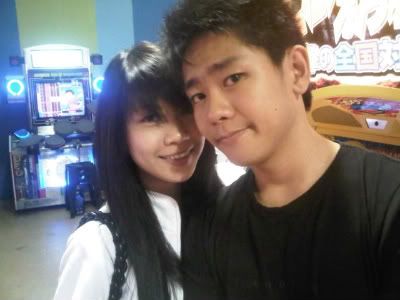 ♥

And today ..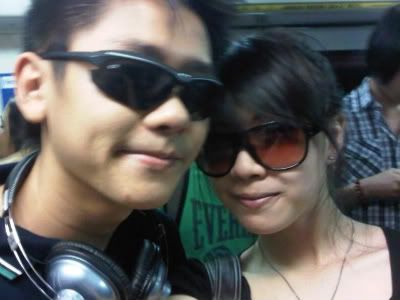 In the train , on the way to SBC.
raym is soon to be influenced by me in wearing shade?
hehe :B
Alrights !

stay tune (:

LOVES CAS ♥