Its amazing how we think of each other at the exact same time.♥!



Pretty much the same thing here and there .
well , only special event was MOTHER'S DAY !
A called out celebration for all mummies for raising such naughty kiddos like us , giving them headaches and everything , but still mummy are forever and always will be there for us.
Not neglecting daddies too ya? But right now , its mother's day .. i shall neglect daddy abit . :X

Kids ,
When everyone in the whole wide world give up on us .
When everyone in the whole wide world despise us ,
When everyone in the whole wide world find a reason to dislike us ,
When someone stab you in the back and make you fall ,
When you tear and there isnt anyone to clean your tears.
Be sure , you mummy will always be there , both arms wide open just awaiting for you to come to her embrace.
Mummy and daddy are our life hero , no one else can be . NO ONE is qualify except them .

They were the ones who will be there when the whole wide world gives up on you.
They will be the one who speak up for you when everyone despise you ,
They will be the only one standing by your back tell the whole wide world " Even if you find a million reasons to hate my child , i will return you a trillion million reasons that my child is the best child i have on earth. "
They will the one who will pulled you up and encourage you to be strong when you fall hard on the groud.
They will have their tissues and shoulder ready when you are in tears.
The best part of mummy and daddy is that despite knowing that we looked for them the last when in times of trouble , they will still be there , willing to be the one to be there for you.

You must admit , when troubles surface , 1st on your mind would be boyfriends , friends .. and when none are available then you think of parents .
In reality , if you do that to a friend , i bet you gonna lose them soon .
They will think " You only look for me when you have no one else to look for. "
But your parents will never ever think this way.
They are the true hero in everyone's life.

Thank you so much mummy and daddy for always being there . Not only providing us shelter , money , food , clothes but also love and concern .
Something which i cant return even if i give up my life , your love are so overwhelming .
I love you so much so much ♥!


Happy mother's day

Alright , so on friday i visited bf's school as they are having some kind of carnival ?
After that , headed to bf's place then to half court then home.

Camwhored before leaving house!



TP - Carnival

Sometimes , i dont want to be mean . But i just has this evil , black hearted blood in me.
I spotted a girl with a serious serious fashion sense problem .
Almost a truck of fashion police needed please !
I wouldnt dare to say my fashion sense is excellent , but i dare to say ....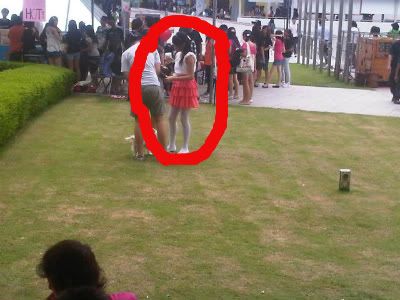 I WILL NEVER DARE TO DRESS LIKE THAT!
A totally fashion NO NO NO.
like hello ...... yes yes , I know you wanna be Snow White .. BUT Snow White only exist in Fairytale my dear . haha!
Plus , its global warming now lehz!
tsk!



Bf spent $2 on this photo , well .... he liked the outcome of the photo .


And now raymond has 2 picture of us in his wallet.
Well , as you know , a guy's wallet contain alot of his precious things like cards , condoms , money and PICTURE of his important girl ♥!

We were planning where to put the photo so it wouldnt spoil the photo so initially one of the photo was placed behind the other .
But the next day raymond showed me his new place for the photo and he said " Now can see both picture. " Awww ! Love you darling !!

So i went to watch his match on saturday , after match , i met my family at amkhub for IPMAN2.
Decided to accompany mummy and daddy since they had not watch this show before plus its been awhile since we had watch movie in a theater together , mother's day shall be celebrate like this then .
Show was obviously awesome despite watching it twice already !
Gald my parents enjoyed the movie too :)


Myself.


Brother and myself.


Myself and mummy ♥!

Mummy was so sweet , she knew i would forget to bring a jacket for myself so she brought one for me and the theater was so cold that day ! Thank god i have such a great and awesome mother!
I love you mum , happy mother's day !

gotta go have my dinner and study for BZE now!
stay tune (:

LOVES CAS ♥